The Starbucks drinks our editors couldn't live without
You know how much we love to try new Starbucks drinks and report back to let you know what's worth the hype and what's not, but when we don't, we always have our tried-and-true drinks lined up. waiting for mobile orders on the way to the office. Although there are only a handful of drinks on the menu, the Starbucks ordering possibilities are truly endless, and what better than the secret menu (is that even a thing?) ask friends (read: TEG editors) what their favorite drinks are. .
As self-proclaimed Starbucks connoisseurs, we happily share the beverages that brighten our mornings and end up on our Instagram Stories time and time again. If you need a new order of your favorite coffee or tea, look no further than this list of Editor's Favorites.
One of my most toxic traits in life is falling in love with seasonal items that make me want more for most of the year. Last fall I consumed the Pumpkin Cream Cold Brew for my body weight, and after having to switch to other options at the end of the fall season, I jumped on the next best thing : a Vanilla Cream Cold Brew. It's not necessarily the same thing, but it still does the trick. I like a "sweet without being overwhelming" moment, and if that's your vibe, you have to try this one. I'll be sipping it all spring and summer long until my one true love, Pumpkin Cream Cold Brew, returns to menus, if only for a moment.
– Ashley Selleke, Branded Content Writer
I have to admit something I'm not proud of: as much as I can appreciate Starbucks' impact on society, I personally wouldn't choose to get coffee from them. But their tea is another story! I love just about all of their tea options, but my favorite is the Medicine Ball. This refreshing drink (secret menu) was made for sore throats, but I love drinking it all year round. To order it on the app, search for a "honey citrus mint tea" and add standard lemonade + preface 2 tea bags + 2 pumps of honey blend = perfection!
– Kirra Wallace, graphic designer

My favorite drink at Starbucks is the Brown Sugar Oatmilk Shaken Espresso, but sometimes I need something a little more subtle that doesn't cost $6.50. On those days, I order a regular Espresso Shaken and customize it to include oat milk and any syrup I'm feeling that day, usually brown sugar, Dolce Cinnamon, or sugar-free vanilla. I also change it so that there is no classic syrup and only two pumps of the flavored syrup that I choose (compared to the usual three in a Grande). This drink tastes great, it's a little less sweet than the brown sugar oat milk drink, and you can feel better for spending a little less. It's only about a dollar difference, but I like to remember that those dollars add up.
– Jess Welsh, associate editor
Look, I never said I was low maintenance. I love Starbucks because I can get a mic and they know exactly what I'm talking about (all the customizable options when ordering on the app really do that for me). Even when it's cold, iced coffee always tastes better (am I right or am I right?) and I like the frothy froth instead of milk because it tastes more luxurious. Also, light ice is my favorite thing because you have more room for the drink while still keeping it cold.
– Josie Santi, Wellness Editor
Normally I'm a chai latte girl, but I'll be the first to admit that I was 100% influenced by the "We Tried All The New Starbucks Drinks So You Don't Have To" article. Our tasting day was the first time I tried matcha (too bad, I know), and this drink sold me. It tastes like summer and will absolutely be my favorite Starbucks drink until my fall favorites return.
– Jessica Jones, Social Media Editor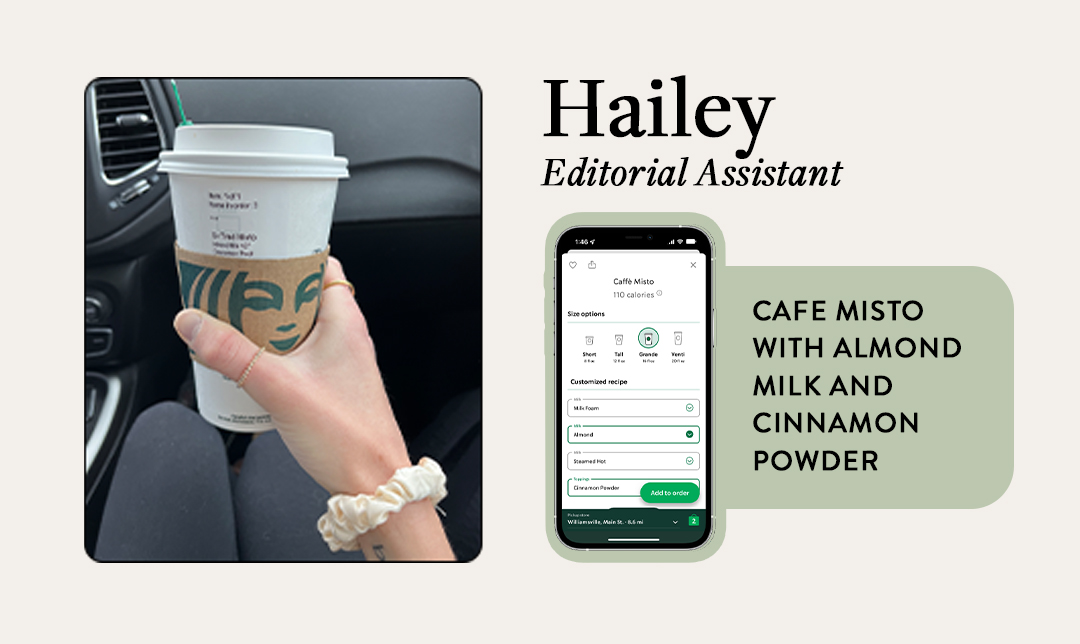 This is my favorite order when I want something a little more sophisticated than a standard coffee but not as high (or expensive) as a latte. If you're unfamiliar, a Cafe Misto is an individual combination of freshly brewed coffee and steamed milk. I do it a lot at home, but there's something special about doing it in a drive-thru. I like to ask for cinnamon powder on top to add flavor without the need for syrups.
– Hailey Bouche, Editorial Assistant
I've been ordering this same drink since I was a fresh out of high school. No matter how many glasses I try, I always find myself going back to what's proven to work. It's the perfect refresher for hot summer days, but I order it year-round (yes, even in the dead of winter). I usually get it with three pumps of liquid cane sugar, and it's just sweet enough without being too sweet.
–Garri Chaverst, editor-in-chief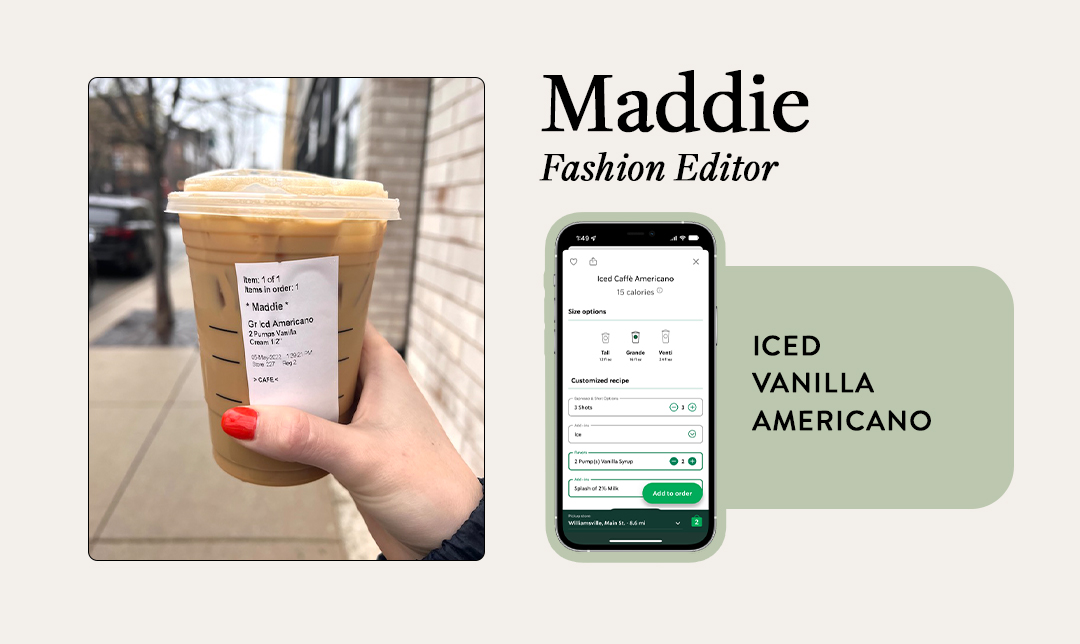 I'm an icy American girl through and through, and this is what I order nine out of 10 times when I go to Starbucks. With two pumps of vanilla and a hint of milk, it's the perfect amount of sweetness without being too much. I prefer the taste of an iced Americano to an iced coffee; once i switched i never went back.
– Maddie Galassi, fashion editor
Late one night while studying for finals in college, I was presented with a dirty chai, and I never looked back. I'm usually the home brew type, so going out for a coffee once in a while is a real treat! That being said, I always go for something spicy and a drink where I savor every sip. The other life-changing moment was when I came across this TIC Tac, who shares an easy way to save $1.60 on this sweet and spicy drink. For all of you who are Team Dirty Chai, you will definitely want to watch and bookmark the TikTok for your next trip to Starbucks!
– Andi Wynter, Social Media Coordinator

I've made it a weekly pleasure to grab a drink at Starbucks, and this drink has been my favorite order lately! The Almond Milk Honey Hot White has always been one of my favorites, but once I saw they could do it iced, I immediately switched. This drink combines blond espresso with steamed milk and a hint of honey. I love that it has a richer espresso taste than a latte because it has less milk but still has the perfect amount of sweetness without all the overpowering syrups.
– Keely Geist, Senior Social Media Writer
9 Things to Add to Your Coffee for Serious Health Benefits