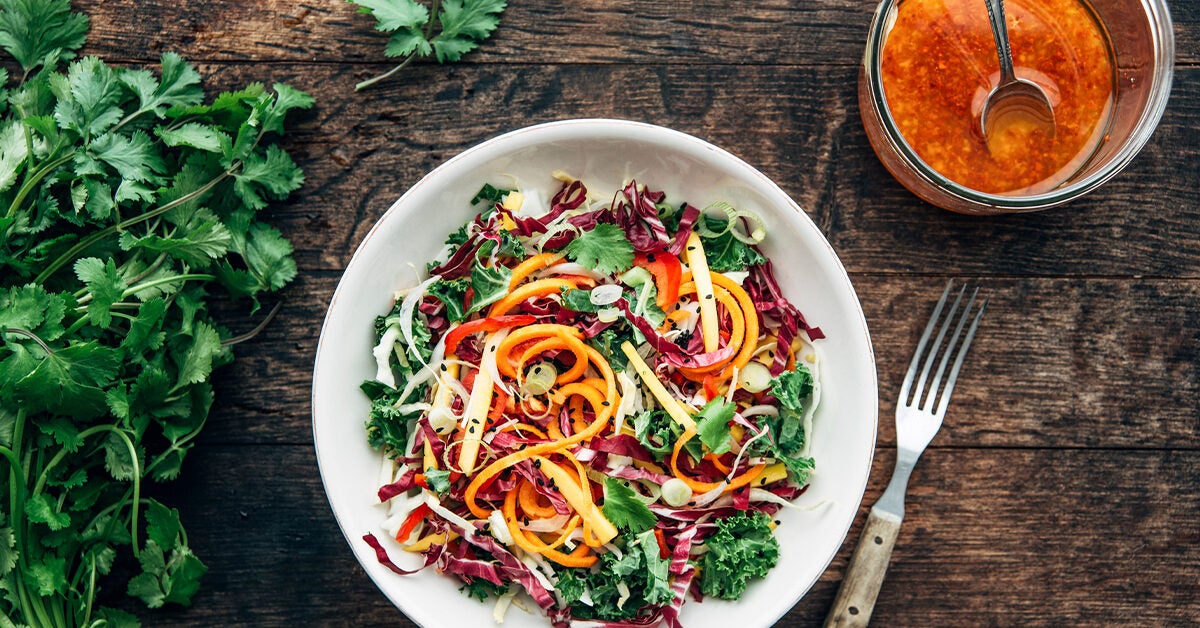 Spicy Vinaigrette: Types, Benefits, and More
There are endless recipes for spicy dressings. Check out a few below, spend some time looking for more, or create a recipe of your own!
1. Sriracha Dressing
A sriracha dressing may be just what you need to kick up your typical salad recipe. This recipe contains olive oil, white wine vinegar and dried parsley flakes. It gets its spice from sriracha.
In addition, it is easy to make and keeps for several weeks in the refrigerator.
See the recipe here.
2. Spicy Southwestern Vinaigrette
You won't want to buy another commercial dressing once you try this recipe.
The recipe is not lacking in flavor thanks to its impressive spice blend of chili powder, cayenne powder, onion powder, garlic powder, and cumin.
See the recipe here.
3. Spicy Thai dressing
The dressing mix offers a dynamic spicy, sour and sweet flavor profile, attributable to its red pepper flakes and rice vinegar.
See the recipe here.
4. Chipotle-Lime Ranch Dressing
This recipe offers explosive flavors with a blend of chili peppers and lime juice over a dairy base of low-fat plain Greek yogurt, light mayonnaise and buttermilk.
Top it up with herbs like parsley, dill, and chives to round out the flavor profile.
See the recipe here.
5. Buffalo Italian Dressing
If you've ever hoped your salad would taste as good as your favorite chicken wings, it can come close to this spicy recipe. It combines spices and herbs with white balsamic vinegar and buffalo wing sauce for a deliciously distinct dressing.
See the recipe here.
6. Spicy Balsamic Mustard Vinaigrette
This recipe is a twist on the classic balsamic dressing using spicy brown mustard to give your salad just the right amount of heat.
See the recipe here.
7. Wasabi Soy Vinaigrette
Satisfy your taste buds with wasabi-soy dressing that pairs well with any salad. Its fiery flavor warms your palate and may remind you of sushi because of the wasabi paste, rice vinegar, sesame oil and soy sauce.
See the recipe here.
8. Curry dressing
The unique recipe adds distinct flavors from strong ingredients, such as Dijon mustard and curry powder. It combines the acidity of lemon juice and hot sauce to provide must-have flavors that take your salad to the next level.
See the recipe here.
9. Creamy Cilantro Jalapeño Dressing
Ingredients
The creamy dressing packs a fiery punch with jalapeño peppers. Thanks to the few ingredients, this recipe is easy to make. It is suitable as a dressing or as a filling for tacos.
See the recipe here.
Summary

The internet is home to countless spicy salad dressing recipes. Check out the ones we've collected, search for more, or create your own at home based on your personal tastes.
Spicy dressings go well with all types of salads, and their versatility makes them a zesty ingredient to drizzle in sandwiches and wraps or over grilled meats and vegetables if you're not feeling salady.
Plus, the spicy dressing makes a great dipping sauce.
Here are some salads that will pair well with spicy dressings.
Coleslaw : kale, mango, nuggets, quinoa
Tabbouleh salad: romaine lettuce, parsley, mint leaves, bulgur, tomatoes, cucumber
Rocket salad: arugula, slivered almonds, strawberries, goat cheese
Asian salad: Asian cabbage, shrimps, edamame, tangerines
Shaved Brussels salad: Brussels sprouts, pine nuts, feta cheese, dried or fresh apples
Chopped broccoli salad: broccoli, onions, grated carrots, sunflower seeds, golden raisins
Southwestern Salad: black beans, romaine lettuce, grated cheese, avocado, cherry tomatoes
Thai salad: Napa cabbage, chicken, red cabbage, red pepper, cilantro, baby carrots, green onion
Greek salad: kalamata olives, feta cheese, cucumbers, cherry tomatoes, artichokes, red onions
Summary

Spicy dressings go great with any type of salad and can intensify the flavors of the salad.
Spicy dressing may have several health benefits, such as supporting your heart health, helping your body absorb vitamins likely present in a salad, and providing antioxidants that help fight free radicals.
However, remember that salad dressings are usually eaten in small amounts.
Although salad dressings offer some beneficial properties, the vegetables, fruits, nuts, seeds, and lean proteins that make up the bulk of your salad are the most important. Be sure to offer a variety of healthy ingredients for optimal nutrition.
May support heart health
Vegetable oils — think olive oil, avocado oil, and vegetable oil — are popular ingredients in spicy salad dressings.
It is better to use vegetable oils more often in cooking than solid fats like butter and coconut oil. This is because solid fats are high in saturated fat, which can increase your risk of high cholesterol and heart disease in large amounts (1, 2).
Olive oil contains monounsaturated fats, micronutrients, and phenols that promote heart protection by reducing inflammation and helping regulate blood pressure levels.
Olive oil and avocado oil contain oleic acid, a heart-healthy compound that may lower your risk of type 2 diabetes and metabolic syndrome (3, 4, 5).
And compared to saturated fats, canola oil may improve triglyceride levels, low-density lipoprotein (LDL, or "bad") cholesterol levels, and total cholesterol levels — all markers of heart health (6).
May help your body absorb vitamins A, D, E and K
Vitamins A, D, E, and K are fat-soluble vitamins often found in common salad ingredients like fruits, vegetables, and nuts.
Your body needs these vitamins to support all kinds of functions, including:
immune health
healing
cell protection
heart health
kidney health
bone health
hormonal health
healthy aging.
Fat is an important macronutrient (a major component of food), and your body depends on the natural fat you eat to absorb fat-soluble vitamins (seven).
Therefore, the healthy fats found in spicy salad dressings can help your body absorb fat-soluble vitamins so you can reap their many benefits.
May help increase your vegetable intake
According to the Dietary Guidelines for Americans, nearly 90% of Americans do not meet the daily recommendations for vegetable consumption (1).
Salads help make eating vegetables easy, enjoyable and tasty. Because you can make a salad with any fruit or vegetable, you can eat lots of healthy foods at once without following a rigid recipe.
Therefore, salads provide a great opportunity to increase your vegetable intake, which is associated with disease prevention, chronic disease management, and overall good nutrition.
One study found better diet quality and higher intake of vitamins and minerals like vitamin A, folate, choline, and vitamin C in salad eaters compared to people who didn't eat salads (8).
Plus, a spicy dressing made with herbs and spices can boost the flavor of any salad, possibly helping you eat more vegetables.
A study of high school students found that on 4,702 lunch plates, vegetable consumption was 18% higher when cooked with herbs and spices than when vegetables were served plain (9).
Full of antioxidants that can help your body fight oxidative stress
Antioxidants are molecules that your body makes or gets through food.
Our body produces free radicals, which cause damage if they get out of control. The role of antioxidants is to prevent free radical damage (oxidative stress) in the body, which can lead to disease (ten).
Some spicy salad recipes combine antioxidant-rich ingredients, such as citrus juices, olive oil, and vinegar, all of which provide antioxidants.
citrus juice
Citrus juices naturally contain vitamin C, a well-known antioxidant. Many salad dressings use citrus juice from lemons, limes and oranges.
Studies have found other components in citrus juices that act as antioxidants, such as saponins, flavonoids, alkaloids, and terpenoids. They seem to reduce the risk of disease (11, 12, 13, 14).
Olive oil
Olive oil contains polyphenols and also has antioxidant properties. These components appear to help reduce your risk of developing cancer, inflammation, diabetes and heart disease (3, 15).
The vinegar
There are many varieties of vinegar available in the world today; however, some common types are white wine vinegar, rice vinegar, balsamic vinegar, and black vinegar.
Polyphenols, micronutrients, and other active ingredients in vinegar give it potential health benefits. Research shows that vinegar has antioxidant benefits that support people with diabetes, high blood pressure, and bacterial infections (13, 16).
May have disease-fighting benefits from herbs and spices
On your spice rack today, you might see a wide variety of spices and herbs, such as curry, cinnamon, garlic, cloves, and oregano. Spices and herbs play a special role in adding flavor, color, appeal and aroma to foods.
But these flavor-enhancing ingredients go beyond what the eye can see, what the mouth can taste, and what the nose can smell.
Research shows that many spices and herbs contain antioxidant, anti-inflammatory, cholesterol-lowering, hypoglycemic, cancer-fighting, and tumor-fighting properties (17).
Several active ingredients may be responsible for these health benefits, such as polyphenols, flavonoids, tannins, vitamins and sulfur compounds (17, 18, 19).
Summary

Spicy salad dressings often include heart-healthy oils, citrus juices, vinegar, spices and herbs. They can be heart-healthy, help you absorb important vitamins, increase vegetable intake, and provide disease-fighting benefits.