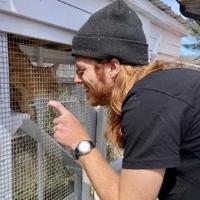 Recovery Court 'Give Back Day' Benefits Hawkins County Humane Society | Rogersville
Anyone accepted into Judge Todd Ross's Rehabilitation Court of the Hawkins County Sessions is invited to host a giving day.
Jake Lawson, a former employee of the Hawkins County Humane Society, decided he wanted to help out on Saturday, and he did.
We are very proud of Jake and his accomplishments. He has such a love for animals and they feel it. I've seen Jake crawl under and over buildings to catch a frightened abandoned dog or cat. No questions asked.
They trusted him and that says a lot about the person.
Jake wanted to give back to the shelter. Many people have stepped up to make this possible by donating the items needed to build a patio for our cats (aka "Catio") so they can get out of their cages and get some fresh air. He did an amazing job and the cats love it.
"I love animals and I love the Hawkins County Humane Society for all they do," Lawson said. "The workers there treated me like family throughout my own recovery. As a Recovery Court participant, I was happy to organize a donation project to help the shelter – they do so much with so few resources.
Many showed up that day to lend a hand, participants in the Recovery Court, Community Service, long with probation officer Danny Henry; Amy Cinnamon, Recover Court Coordinator; Ballad Health Community Recovery Coordinator Jennifer Jones; and several volunteers.
In addition to the Catio built by Jake Lawson, they painted the walls, moldings and doors to beautify the shelter.
Jake will return sometime next week to paint the mural in the medical room. He has to wait for the paint to dry and wants it to be perfect one day without too much distraction.
It's something I asked for when Jake came to offer me a donation day. I wanted something to calm the animals, a nice mural. So many animals come in with injuries and are just scared. I'm looking forward to the fresco.
So much was accomplished today and I want to thank everyone who came out to help Jake.
I was lucky enough to employ a few from Recovery Court. It makes my heart happy to give people who have made bad choices a chance. The animals are healing, but it's hard work. Not everyone can do it.
We see heartache at times and joy at other times. Jake has witnessed this and knows how difficult it is. He will always be part of our Shelter Family. We are so proud of him.
I will be forever grateful to Judge Todd Ross for always seeing the good in people.
Here's hoping that many who enter the Recovery Court will be successful. Some fail but here is proof that many succeed.
It takes a village as the saying goes. From a judge saying, "You want help. I'll Help"; to Amy Cinnamon and Jennifer Jones; DeAnna Synder and Danny Henry.
You all make a difference. I saw it and today was another hit.