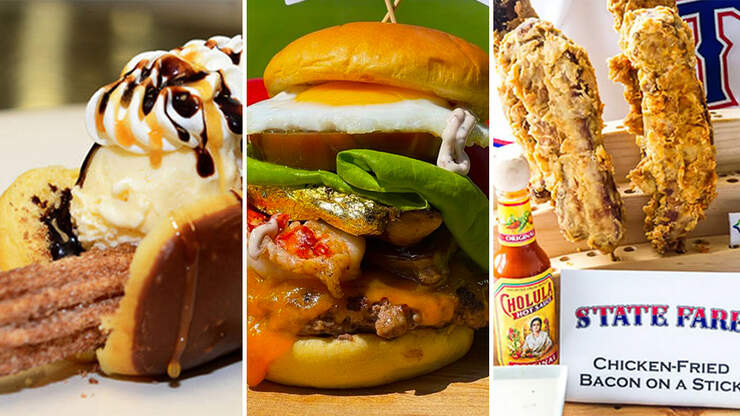 Most Overdone Baseball Stadium Foods | Fox Sports 1070
Everyone loves a baseball game, but what's really worth going to your favorite stadium is the food! Check out these wild dishes to see if your ballpark made the cut!
You can get a Waygu burger with a side of the World Series ring for $25,000 at Atlanta Braves Stadium.
Alligator andouille sausage hand-dipped in corn dog batter and fried at Texas Rangers' Stadium.
Say hello to Cheeto-Lote. You can find it at Dodger Stadium.
Milwaukee Brewers 'The Beast' is a meat lover's best friend! A piece of hot dog is stuffed into a foot-long bratwurst, then wrapped in bacon and topped with kraut and cooked onions. The pretzel bread covered with old-fashioned mustard and Stadium sauce is the icing on this cake!
Photo: Milwaukee Brewers/North Delaware
Arizona Diamondback's introduced the "D-Bat," an 18-inch corn dog stuffed with cheddar cheese, jalapeño and bacon served with chipotle ketchup, spicy mustard and fries and costs $25. Beat you !
If a plain old hot dog wasn't enough, treat yourself to the Churro Dog at the Arizona Diamondback's Chase Field. This dessert dog features a warm cinnamon churro sitting inside a chocolate glazed Long John donut, topped with frozen yogurt and caramel and chocolate sauces.
Wilmington BlueRocks Stadium's Krispy Kreme Donut Dog has teamed up with Krispy Kreme to whip up the Krispy Kreme Donut Dog. This sweet and savory hot dog comes in a glazed donut topped with raspberry jelly and bacon.
"The Poutine Dog" made a statement at Detroit Tiger's Comerica Park. It's a hot dog with fries, cheese curds and beef sauce! Phew!
Seattle Mariners games aren't complete without these Dirty Tots. These are crispy tater tots topped with Beecher's signature cheddar cheese, Carlton Farms pork belly and Bay Valley pickled peppers.
You can get Beecher's Seattle Fried Cheese Curds drizzled with Ballard Bee Honey at Seattle Mariners games. Yummm!
'The Brat Dog' at Minnesota's Twin Target Field is a bratwurst sausage wrapped around a hot dog served on a pretzel bun and topped with bacon and kraut. We're not sure there's enough meat in there!
This fried hot dog is topped with chili, Pepper Jack cheese and fried salami. It's a staple of Cincinnati Reds games.
In honor of outfielder Shin-Soo Choo, the Texas Rangers introduced the Choomongous, a 24-inch Asian beef sandwich with spicy coleslaw and Sriracha on a baked bun. It costs $26.
A summer campfire accompanies the county fair with the Texas Rangers Fried S'mOreo. It's a breaded marshmallow in a graham cracker crust and fried, sandwiched between two fried Oreos on a skewer!
Everything is better on a stick! The fried bacon on a stick at Rangers' Globe Life Park is three-quarter-inch thick Hungarian smoked bacon, dipped in maple syrup and fried.
Fried corn on the cob with chicken…finger-licking good!
For true bacon lovers, try the Bacon Cotton Candy at Texas Rangers Stadium.
Frozen Beer at LA Dodger Stadium will keep you cool in the summer! Frozen beer makers create a frothy lid that keeps beer cold for up to 30 minutes.
The Washington Nationals began selling this 8-pound StrasBurger at Nationals Park in 2012. This massive cheeseburger, named after Nationals pitcher Stephen Strasburg, also comes with a basket of fries and a pitcher of your favorite soft drink. .
"The Big Catch" sandwich and fries combo from the Triple Play Grill stand at Nationals Park in Washington, DC is $18 and well worth it!
You can never have enough crab in Baltimore! These Crab Waffle Fries are crispy waffle fries topped with Old Bay Crab Dip.
The Baltemore Oriole's Triple Crown Sandwich at Camden Yards features an ESSKAY hot dog, bacon on a stick and pulled pork.
'The Walk Off' at Dempsey's is a Baltimore staple! It's an Old Bay Roma sausage in a pretzel roll topped with a homemade Old Bay crab dip. Mouth watering?
Milwaukee Brewers, Miller Park 'Down Wisconsin Avenue' Brat loads just about everything – fries, gravy, cheese curds and sauerkraut, with cheese sauce, fried jalapeños, sour cream and chives. It really is the works!
Inside the park, the nachos aren't really nachos, more like nachos on a stick. It's a dog-shaped corn stick stuffed with taco beef and refried beans, rolled in Doritos, then fried and drizzled with cheese and sour cream.
Yankee Stadium's new Bases Loaded Burger is topped with fried mac and cheese.
The New York Yankees Chicken and Waffle Stand is a favorite with savory and sweet throwback fans.
The Carne Asada hound adds a bit of light south of the border to your usual baseball hound. It's a 1/2 lb hot dog on a jalapeno cheddar roll topped with carne asada, Diego queso (spicy cheese sauce), and pico de gallo.
Everything is bigger in Texas! The Boomstick is a two-foot-long, one-pound dog!
At the Tampa Bay Rays, Tropicana Field, you can indulge in Mac Bat, which features a rolled flatbread cone filled with macaroni and cheese, topped with bacon, chili, or tomato!
Tater Tot Chop at Turner Field: A layer of tater tots pressed in a waffle iron, loaded with bacon, melted cheese, and jalapeños topped with another waffle and served with Coca-Cola infused ketchup.