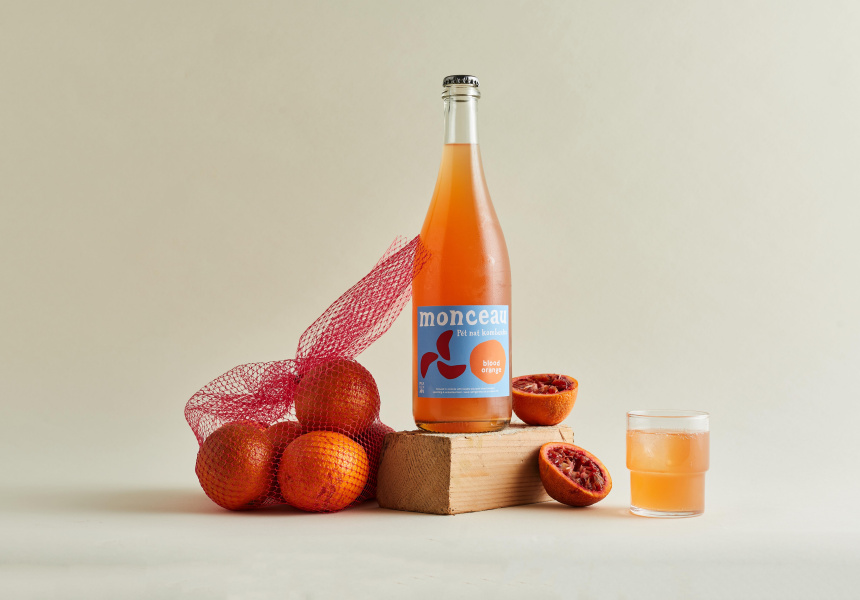 Mike Bennie's eight best Australian non-alcoholic drinks to sip in this dry July – and beyond
As dry July – the annual fundraiser encouraging Australians not to drink alcohol during the month and to raise money for those affected by cancer – revolves around another year, we thought it was the right time to ask beverage expert Mike Bennie to share his favorite non-alcoholic options with us. And that's especially helpful as the non-alcoholic beverage market becomes increasingly crowded. A leading drinks expert and well-known writer, Bennie co-founded Sydney's bottle shop P&V Wine & Liquor Merchants, and is behind several local industry awards and events, such as Drink Easy and Rootstock. That means he tastes almost everything that comes out here, so we think he's in a good position to give us the best soft drink suggestions. Here are his top eight picks.
Normal Pile Other Lager
Crisp, refreshing, bitter and dry, a lager ripper in anyone's tongue (and you don't finish the party drongo after drinking a little too much). It's so authentically Australian beer that it tastes like the sort of thing you'd spill on a pub floor to give it that "authentic smell" – although you won't waste any, because it's so refreshing and good. Appropriate stuff, serious beer, stacks of flavor, sessions and just outstanding as an important alternative to booze. Right on.
Organic Raspberry & Eucalyptus Beesbucha
Simple and brilliantly made, this is a seriously invigorating and delicious drink. Although it's not strictly a mead (which contains alcohol), it's still naturally fermented honey water that ends up being slightly fizzy, tart and tangy with a hint of sweetness. Created by Sydney bartender Giacomo Franceschi, this version is fortified with raspberry and eucalyptus for added complexity and interest. The ingredients are also sustainable – the honey is sourced from Ku-ring-gai Chase National Park and the Huntleys Peninsula, the wild eucalyptus of southeastern Australia – and there are no artificial flavors. , preservatives or sweeteners.
Gruppetto Spritz Veneziano
Melbourne bar legend Matt Bax (Bar Americano et al) used his extensive knowledge of cocktails to produce this incredibly authentic and exceptional canned spritz. It's made in classic Mediterranean spritz fashion with a pleasingly bitter accent – ​​think blood orange and pink grapefruit – and offers a hint of sweet, grassy Campari character in the mix. Brilliantly sparkling too. It is a pure delight.
Monceau Blood Orange Pet Nat Kombucha
Pét-nat, or natural sparkling, is usually a phrase associated with naturally sparkling wine, but it's been co-opted here by Melbourne's sole beverage producer, Monceau. Monceau traditionally produces kombucha but ferments it a second time with fruit. This one is tangy and slightly sweet thanks to the blood orange juice. What we get is all the crisp flavor of kombucha, all the frisky fizz of pét-nat, and plenty of thirst-quenching tangy, sweet citrus goodness. Drunk on proper glassware is the idea with this one.
Tina 1.0
Original, different and simply delicious, Tina (This Is Not Alcohol) is a "cocktail" made from lightly sparkling tea flavored with calamansi (a type of citrus fruit) and organic plants. It's dry, a bit fruity sweet and tart, has some of the lovely herbal elements of fine oolong tea, and finishes with a fizzy tickle and chalky pucker that resets the palate beautifully. Created by Victorian cousins ​​Chrissie Trabucco and Imogen Hayes, it's interesting and distinct, with great drinkability and plenty of sophistication. It's the top of the tree when it comes to mocktails.
Lyra Italian Orange
Lyre's is a dedicated non-alcoholic spirits company that started in Sydney and offers a wide range of "spirits" produced to mimic the alcoholic equivalents (hence the name lyrebird). While many are good or excellent, the Italian orange is the best. It's Campari by another name, non-alcoholic, and impressive on ice with a wedge of blood orange, shiny splashed in soda water and garnished with a wedge of orange, or just excellent on its own. It's pleasantly bittersweet, has a really over-the-top glossy texture and depth.
Barossa Wine Cartel 2022 No, no rosé
A savvy Barossa Valley winemaker has found a way to make the best non-alcoholic wine around, using an unconventional blend of Riesling and Chardonnay grapes, cherry juice and salt. Who would have believed it ? It ends in a slippery textured rosé of immediate appeal that feels a few notes above a pleasantly watery raspberry cordial with a hint of citrus. It's not 100% convincing as a rosé, but it comes close, and it's a great drink and a great time.
Monday Distillery G&T Exotic Spices
Monday Distillery nailed the case for an interesting gin and tonic (well, it's half soda, half tonic), blending cinnamon and nutmeg to produce a distinct mixed drink. It has that excellent, satisfying texture of the original cocktail, but a kind of friendly freshness that is satisfying but very easy to integrate, and all that spice just makes you want to hunt down your drink and have some more. It's a job well done.