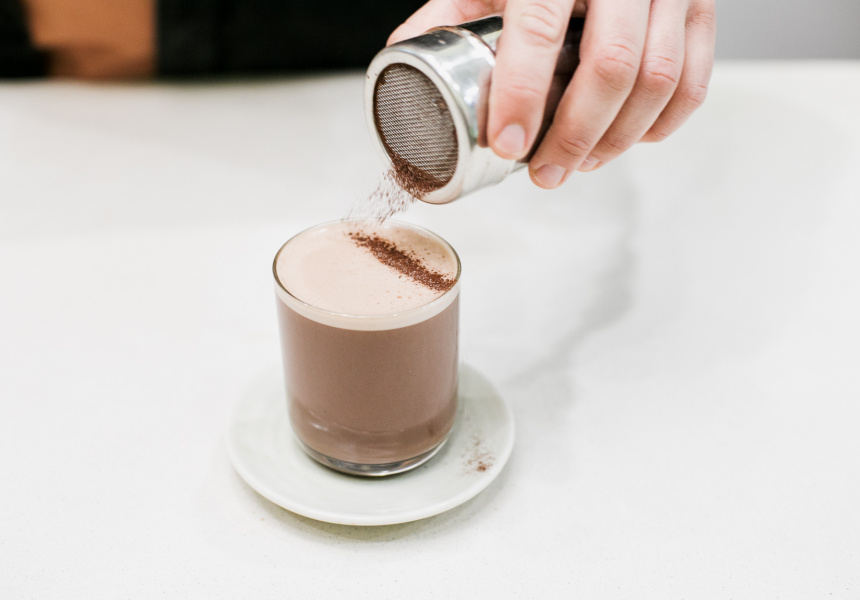 Late Night Drinks to Keep You Warm This Winter
"For a nighttime drink, you want to satisfy either that sweet craving or [have] something that will make you feel warm and cozy before you go to sleep," says Joe D'Aspromonte, co-owner of South Yarra cafe Boy. "And something you can impress someone back home with is always nice too."
When temperatures drop, drinks tend to warm up. Bars pump out mulled wine and outdoor outings are accompanied by a hot thermos of tea or coffee. For a night out, classics like chai and hot chocolate are always good options. "It's comfortable, you can hug your hands around the cup, it's nice and warm," says D'Aspromonte. "You imagine these atmospheres of winter nights around a fire, which I really like."
The right ingredients
According to D'Aspromonte, there are a few ingredients you should and shouldn't include if you're making your own winter warmers. Something that's not caffeinated is a no-brainer, but it's a good idea to add warming spices like cinnamon and an element of indulgence via a plant-based dairy alternative like oat milk. or hemp (oats are rich in melatonin and hemp seeds are a source of magnesium and omega 3, both of which are believed to be linked to quality of sleep). "You want a creamy, nutty element," says D'Aspromonte. "For the night, you don't want to feel super heavy, which dairy does to a lot of people with that bloated element. For milk alternative, I'm looking for something that gives me the same creaminess with a reasonable sugar level. , or no refined sugar if possible A low-sugar, plant-based option like Mount Elephant Hemp & Oat Mylk is ideal, especially since it gets creamier when reheated.
Spicy and warming chai
D'Aspromonte has two current favorites for chilly evenings at home. The first is a classic chai. "Chai is definitely a cozy, blanket, movie-like nighttime vibe," says D'Aspromonte. "It's the spicy, savory element of cinnamon. You also have the optional sweetness where you add your honey to it. It's a dessert without a dessert.
To make a decent chai at home, D'Aspromonte says real spices are essential, which typically include green cardamom, cinnamon, star anise and nutmeg. "I think a lot of people imagine the powdered raw chai that you can buy, but we use a sticky sheet that's actually really easy to brew at home."
Once the spice mixture has been sorted, brewing the chai is very simple. "Make sure you have your 30 grams of chai leaves and 300 to 340 milliliters of milk," says D'Aspromonte. "Leave this stew for a minute and a half in a little boiling water, then heat the milk with the chai leaves, strain it and you have your delicious chai. You can also put a little cinnamon on top.
Hot chocolate for adults
D'Aspromonte's next appointment this winter combines two classics for something a little special. "Another drink I love is the one our barista introduced me to: Earl Gray Hot Chocolate," says D'Aspromonte. As you would imagine, it combines rich hot chocolate with the floral complexity of Earl Gray tea. "I think it's really fun if you're having people over and you come across a dry July situation and you want to impress someone with a good drink."
To whip up this one, start by steeping Earl Gray tea — D'Aspromonte recommends two teaspoons of loose tea. "Allow to infuse a little, then add two heaped tablespoons of your favorite chocolate powder." Combine with hot milk (D'Aspromonte suggests heating in a saucepan on the stovetop if you don't have a steam wand), then toss in the tea leaves for a trendy take on a winter classic.
This item is produced by Broadsheet in partnership with Mt. Elephant, with their Hemp & Oat Mylk mix available nationwide at Coles supermarkets.