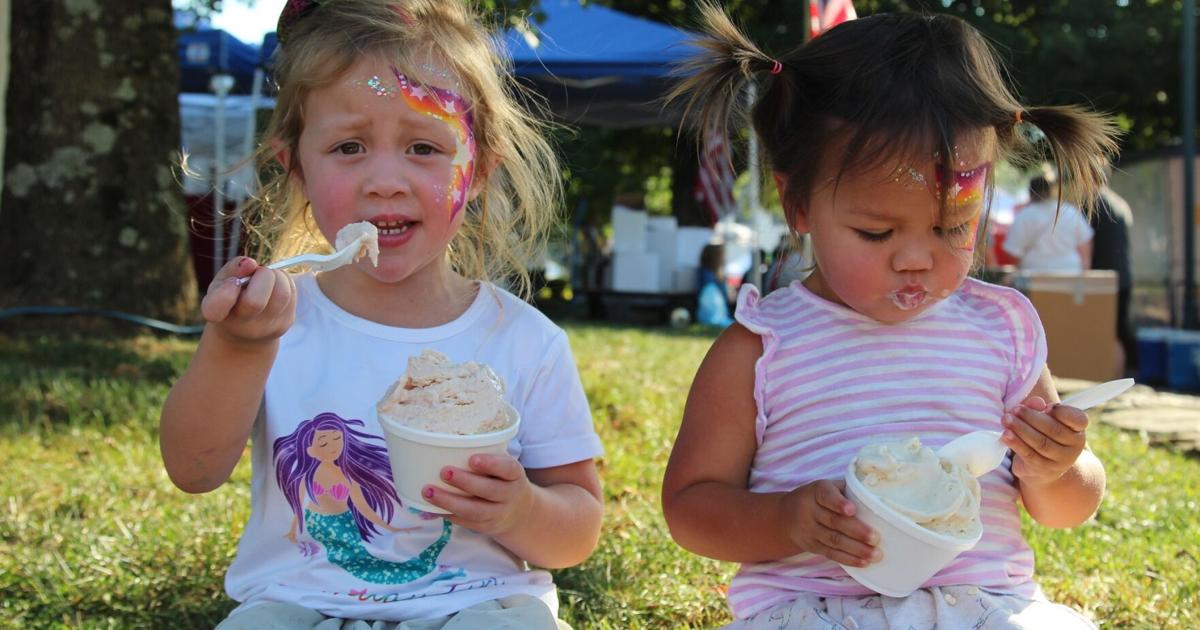 A guide to this weekend's festival foods | Local News
According to staff reports

Those looking for a bite to eat from the festival this weekend may find their account at the Morganton Historic Festival.
In its 40th year, the festival kicks off at noon Friday when food and craft vendors open their stalls to the public, followed by the opening of the Kids Zone and Teen Zone at 2 p.m. Music will begin on the Courthouse Square stage at 8 p.m. Friday night.
As always, admission to the festival and its concerts is free.
Here is an overview of the food vendors who will be on site Friday and Saturday:
SAVORY
Steak Boys Inc. with turkey legs, gyros, corndogs, fried mushrooms, chicken fingers, fries, house fries, salad platters, butterfly fries, corn on the cob, chicken on a stick, smoothies, iced tea, lemonade
St. Charles Hmong Catholic group with their Hmong imperial spring rolls
Burke Ballers Athletic Association with chicken wings, burgers, hot dogs
Scarboro Fair with burgers, hot dogs, barbecue sandwiches, fries and corn
Tumblemania with hot dogs, pizza, lemonade, Dippin' Dots, Pepsi products
BBQ on a Stick with teriyaki chicken on a stick
Avery Willing Workers with a fish fry
Thai Town with Thai Chinese Food: Beef or Chicken on a Stick, Fried Rice, Lo Mein, Pad Thai, Vegetable Spring Rolls
Feast in a pita with falafel, veggie gyros, hummus/tabouli pita sandwich, stuffed grape leaves/hummus pita sandwich, baba ghanouj with pita wedges, tabbouleh salad, vegetable sampler platter, garlic chick pita, gyros, shawarma, chicken fillets with fries, fire-breaded shrimp, corndog with fries
SWEET
Bundt Nothing Cakes with individual Bundt cakes in a variety of flavors, all topped with buttercream cheese frosting
Jason's Concessions with funnel cakes, lemonade and crushed ice
Southern Charm Winery with sweet wines and wine slush
Carolina Tea Company with cups filled with sweet tea, lemonade, fruit punch and unsweetened tea
Vaudois style wines with wine and wine slush
The Nut House with Honey Roasted Pecans, Cashews and Almonds
Handy's Kettle Corn with Popcorn, Flavored Popcorn, Lemonade, Flavored Lemonade, and Hand Dipped Ice Cream
Hinnant Family Vineyards and Winery with wine by the bottle or glass, wine glasses and t-shirts and non-alcoholic grape juice
Paris Festival with baked cinnamon sticks, apple pie, apple bread pudding, New Orleans apple donuts and funnel cakes
Sunset Slush of the Blue Ridge with Soft Italian Ice Cream Sorbet
Knob Creek Farms and Creamery with ice cream
Morganton Optimist with cotton candy, popcorn, snow cones, Pepsi products
D&J concessions with soft serve ice cream with cup/cake/waffle cone options, root beer floats, orange soda floats, fudge brownie sundaes, frozen bananas, fried candy bars, pecan pie fries, fried frozen cheesecake, funnel cake, lemonade, tea, Pepsi and water
Petit Guatemala with coffee drinks