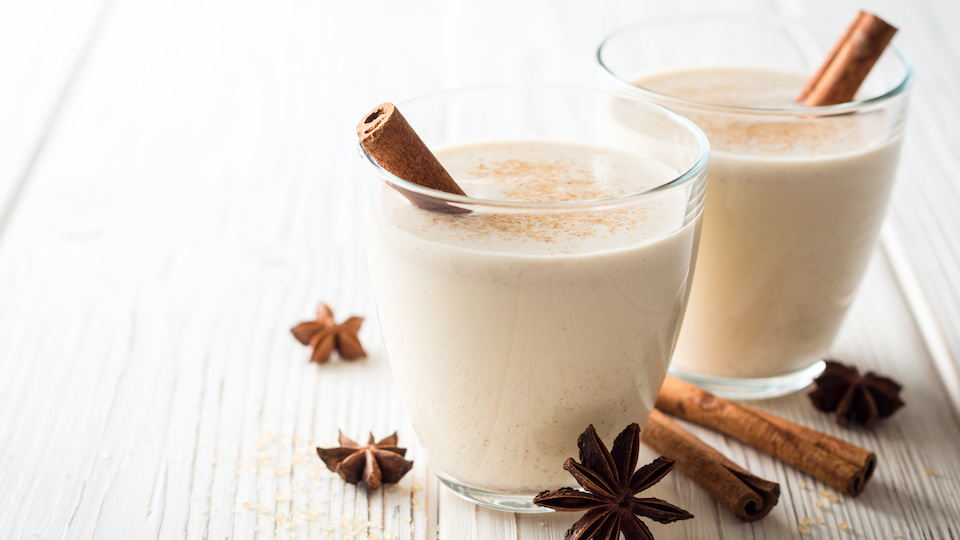 a delicious way to fight inflammation
Cinnamon is a warming spice that can be used in both sweet and savory cooking. But cinnamon is more than just a delicious additive to our favorite recipes, it has a host of health benefits that make it a super featured spice. If you're looking forward to welcoming fall a little earlier, these delicious drinks will help get you in the mood, even when the temperatures outside are still soaring.
Cinnamon contains cinnamaldehyde and cinnamic acid, both antioxidant properties that help inhibit cell damage caused by free radicals. The antioxidants in cinnamon have anti-inflammatory effects, which may help lower your risk of disease.
These delicious drinks will help you enjoy the health benefits of cinnamon on a daily basis.
Creamy Cinnamon Latte
This delicious and healthy vegan cinnamon latte tastes just like the $ 5 one of your favorite coffee – only cheaper… and healthier.
Ingredients:
3/4 cup coconut or almond milk

1/4 cup strong coffee or 1-2 shots of espresso

1/8 tsp vanilla extract

3-4 teaspoons of maple syrup
Instructions:
Add the hot coffee, syrup, vanilla and cinnamon to a mug and stir until combined.

Microwave the milk for 1 minute or heat on the stovetop until very hot, but not boiling.

Place the steam nozzle or the blender in the milk and turn it on, stirring gradually until the desired amount of foam is reached.

Gently tap the milk container on a work surface to separate the froth and liquid, then take a large spoon to hold the froth while you pour the milk into the coffee mixture.

Remove the foam and place it on the milk, then garnish with cinnamon. Enjoy!
Spicy apple pie smoothie
Enjoy all the delicacies of apple pie in healthy form with this creamy cinnamon smoothie.
Ingredients:
1 apple (cored and chopped)

1 frozen banana

1/2 cup plain Greek yogurt

1 tsp of maple syrup

1/2 cup unsweetened almond milk

1/4 teaspoon of cinnamon

1 pinch of nutmeg
Instructions:
Add all the ingredients to your blender.

Blend until smooth.

Serve in a tall glass and garnish with more cinnamon, to taste.
Viennese hot chocolate with cinnamon
Sometimes your sweet tooth wins and you have to satisfy a craving quick. Top this sweet treat with whipped cream and sprinkle with cinnamon and dark chocolate shavings for an extra layer of sweetness.
Ingredients:
1 3/4 cups milk of your choice

6 teaspoons of unsweetened cocoa powder

1 teaspoon ground cinnamon

1/2 cup cream (or herbal whipped cream)

1/2 tablespoon of vanilla extract

Dark chocolate shavings (optional)
Instructions:
Refrigerate a metal bowl and a whisk for 1 hour.

Pour the cream into the cold bowl and beat. When it starts to get frothy, add the vanilla extract.

Stop beating when the cream forms stiff peaks. Refrigerate.

Heat the milk in a saucepan.

Add cocoa powder and cinnamon to the bottom of the mugs (for 1 mug: 3 teaspoons of chocolate and 1/2 teaspoon of cinnamon).

Pour the boiling milk through a sieve into each cup and mix gently.

Top hot chocolate with whipped cream and sprinkle with remaining cinnamon and optional chocolate shavings.
Tonic Gut Apple Cider Cinnamon
This 4-ingredient intestinal tonic tastes the same as hot apple cider, but it's super healthy. Drink it to aid digestion, eliminate bloating, speed up weight loss, and boost your immunity.
Ingredients:
1 tablespoon of raw apple cider vinegar

1 teaspoon of raw honey

1/4 teaspoon ground cinnamon

Pinch of sea salt

1 cup of filtered water
Instructions:
Bring half the water to a boil in a kettle or on the stove. (Don't boil all your water, or you will deactivate the good properties of apple cider vinegar and honey).

Pour the other half of the water and all the remaining ingredients into a cup and stir well, then add boiling water. It should be a perfect drinking temperature to enjoy immediately.
Mexican Hot Cocoa
This spicy take on the classic favorite will awaken your taste buds and convince you that chocolate, cinnamon and cayenne pepper are the perfect match.
Ingredients
1 cup of Dutch cocoa powder

1 teaspoon ground cinnamon (plus more for garnish)

1 pinch of cayenne pepper

3 cups of milk

3 tablespoons of honey, divided

Finely grated zest of one orange

1/4 teaspoon vanilla

1/4 cup heavy cream
Instructions:
In a medium saucepan, whisk together the cocoa powder, cinnamon, salt and cayenne pepper. Whisking constantly, add the milk in a thin stream until combined. Stir in 2 tablespoons of honey and orange zest.

Heat the mixture over medium heat, whisking occasionally, until steaming and bubbles start to appear on the sides of the pan. Remove from the heat and whisk in the vanilla.

In a medium bowl, or the bowl of a stand mixer fitted with the whisk, beat the cream and a tablespoon of honey on medium speed until the cream is gently whipped.

To serve, divide the cocoa between the cups, top each with 1 tablespoon of whipped cream and sprinkle with cinnamon.
Cinnamon Immunity Shot
The ingredients in this little potion are all packed with nutrients that can help nip a cold in the bud or keep your immune system in fighting shape.
Ingredients:
2 inch piece of fresh ginger root

1 inch of fresh turmeric root

Juice of 1 fresh lemon

1/2 teaspoon ground fresh black pepper

1/2 teaspoon ground cinnamon
Instructions:
Peel and cut the ginger and turmeric. Cut each into thin slices or pieces. Put all the pieces in your blender (or juicer, if you have one).

Add the juice of a whole lemon to the blender, along with the black pepper and cinnamon.

Mix all the ingredients for a minute or until a liquid forms. At this point, it will still have a lot of fiber in it, so it may appear bulky and fibrous.

Place a colander over a bowl or large measuring cup. Carefully pour half of the liquid from the blender over the colander in the bowl below. The fiber that remains in the colander has a lot of liquid that we want to keep, so tap it with the back of a spoon to release more liquid and then throw it away. Repeat with the other half of the liquid. (If you have a juicer, you can skip this step)

Depending on your individual tolerance level, you may need as little as a teaspoon of the mixture, or you may want to drink a whole shot glass.

Store any excess in the refrigerator in a covered glass jar for about a week. Shake before use.
With so many hot, cold, sweet, and spicy cinnamon drinks to enjoy, try making one for each day of the week!
-Liivi Hess